Volkswagen Technology
February 20 2018, Guelph Volkswagen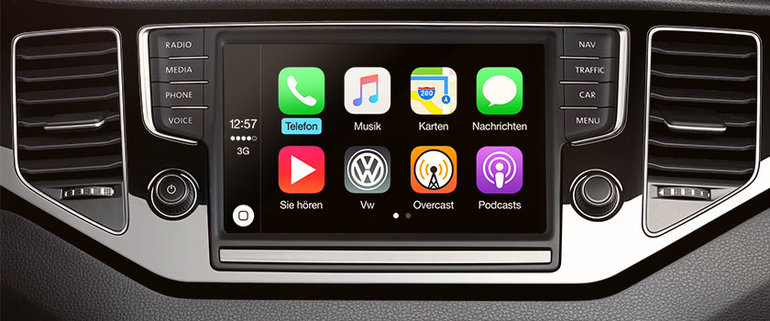 One of the coolest things about owning a Volkswagen vehicle is utilizing the of state-of-the art safety and technology features that go along with it. To help you better navigate your Volkswagen's features we've created a summary of some of that latest features that have been intergrated into our vehicles.
Introducing Volkswagen APP Connect
Connecting your smarthphone to your Volkswagen is now easier than ever before. With Volkswagen App-Connect two innovative technologies (Apple CarPlay and Android Auto) allow you to display smartphone apps onto your Volkswagen's touchscreen. By simply connecting your mobile device via USB you can access messaging, location and music content all from the comfort of your vehicle.
To simplify the process of syncing your mobile device, we've included handy video tutorials below.
How to Connect to App-Connect Using Android Auto
Once connected you'll be able to listen to your favourite playlists with Google Play Music, navigate Google Maps, make calls, and check voicemail with Android Auto and search the web with voice commands by simply talking to Google.
How to Connect to App-Connect Using Apple CarPlay
Once paired you can have Siri read, reply and respond to phone calls and messages by addressing her via voice command. Maps will provide you with in-depth instructions and you can access addresses from your email, texts, contacts or calandar.
Now that your mobile device is paired the possiblities are endless...
Up to the Minute Travel Information
Another one of the extremely useful features of App-Connect is the ability to integrate maps on your mobile device with your Volkswagen's navigation system. You'll be able to receive up to date travel information and re-route the path to your destination as needed. Already have your destination saved in your phone? By utlilzing your Volkswagen's MirrorLink system, you'll be able to replicate your map information on your digital display.
Your Music at Your Fingertips
Say goodbye to fussy nobs and touchy playback controls. Once your device is succesfully paired with your Volkswagen you can listen to your favorite music and podcasts with apps like Spotify and iTunes, all of which are now accessible through the Volkswagen's handy display hub.
Stay on Top of Your Day Without Lifting a Finger
Once your device is linked to the App-Connect system you can send and receive messages, make calls, and access your contact information by utilizing your mobile devices' voice function. Allow Siri or Google Now to act as your personal assistant while you stay focused on the road ahead.